August was a down month for most equity markets, however Canadian stocks were one of the few positives. Meanwhile bonds and REITs performed well.
August 2019 Market Performance
All index returns are total return (includes reinvestment of dividends) and are in Canadian Dollars unless noted.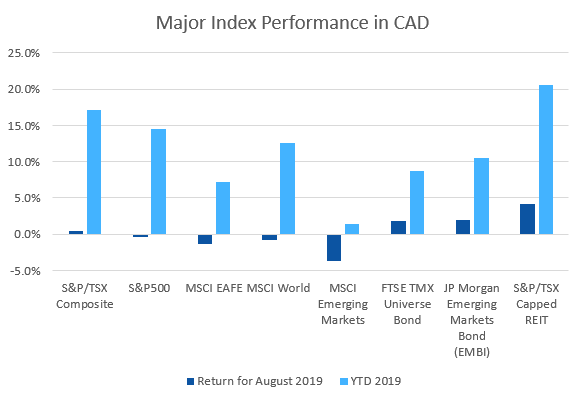 *Absolute change in yield, not the return from holding the security.
August was a negative month for most equity markets, but the S&P/TSX Composite was one of the relatively bright spots at +0.4% for the month. In the US, the large cap S&P500 was down -1.6%, and the small cap Russell 2000 was down -5.1%.
EAFE (Europe, Australasia & Far East) stocks were also down in August at -2.7%, European stocks specifically down a little less at -2.0%.  British stocks finally performed worse than their peers at -4.0% for August. Emerging market stocks were also down in August at -2.7%.
Canadian bonds were one of the few bright spots in August, the FTSE/TMX Universe Bond Index was up +1.9% and the FTSE/TMX Short-term Bond Index was up +0.7%.  US bonds were mixed in August, with treasuries and high grade corporates performing really well and lower rated and high yield indexes flat to negative.  Emerging market bonds were also positive in August at +2.0%.  REITs had a month, returning +4.1%.
Oil posted its second negative month for 2019, and was down -5.9% in August.  Gold meanwhile had a strong month and was up +6.4%.  The diversified Bloomberg Commodities Index continued to struggle, declining -2.5% in August.
The Canadian Dollar (CAD) lost -1.1% against the US Dollar and was flat versus the Euro.
Commentary – by Gordon Ross, CFA
August demonstrated yet again the great value of a sound investment plan. If that plan targets our goals and is in tune with what we believe, then we can stick with it through volatile times. But it's not easy to arrive at such a plan.
Whenever we reach an objective, it is easy to want more and change the plan.
Balancing current wishes with future possibilities in the plan is hard. Saving current income for future retirement is so hard even accountants simplify it. Media headlines always trumpet what just happened, rarely long-term evidence, never what will happen tomorrow.
People also tend to be overconfident that they have all relevant present information, and that they understand it. Distinguishing between facts and "false news" has always been hard.
If there has not been a recession in a while, people worry that one must be near. If there we just had a recession, people worry that economic growth will not be strong enough or that there will be a "double-dip" recession.
Historical evidence is not a guarantee. But day-to-day events in the world's tradeable markets are not useful for predicting the future. Daily returns in stock markets are volatile and unpredictable. But if your time horizon is more than five years however, even the stock market odds start to favour investors.
If you break up with your plan, your plan will let you down. This is why ModernAdvisor helps you have a plan that is right for you, and helps you stick with it.
August 2019 Economic Indicator Recap
Below are the current readings on the major economic indicators: central bank interest rates, inflation, GDP and unemployment.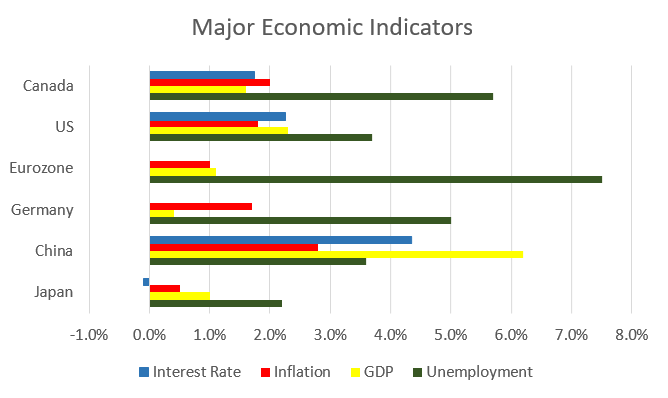 Below are the current readings on a few other often followed economic indicators: retail sales and housing market metrics.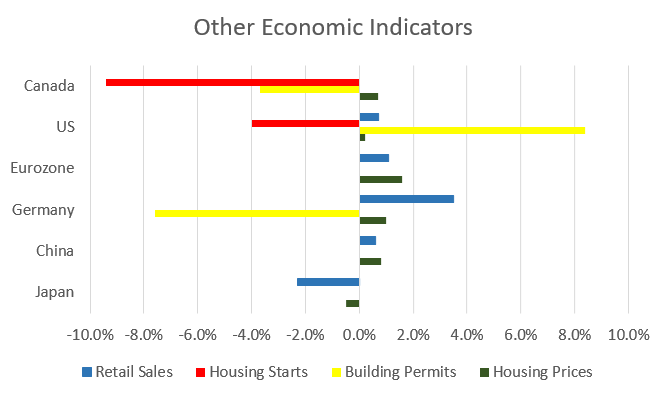 A Closer Look at the Canadian Economy

Canada's unemployment rate rose to 5.7% in July, as 24,200 jobs were lost.  11,600 new full time jobs were lost, and 12,600 part time jobs were lost.  Alberta saw 14,000 job losses, while Quebec gained 17,000 jobs
Housing prices across Canada were up +0.7% in July, meanwhile Vancouver was down -1.0% its 12th consecutive flat or negative month.  All other 10 metropolitan markets in the index were up, with Winnipeg (+2.9%), Ottawa (+2.0%), and Montreal (+1.7%) the largest gainers.
The level of new housing starts declined -9.8% in July to 222,000 units.  The value of building permits issued in June declined -3.7% to $8 billion.
The inflation rate for July was +0.5%, and +2.0% on an annual basis.  Core inflation which excludes more variable items such as gasoline, natural gas, fruit & vegetables and mortgage interest was +2.0%.
Retail sales were flat in June; compared to a year ago retail sales were up +1.0%.  Stronger sales in most subsectors were offset by declines at motor vehicle and parts dealers, and gas stations.
Canada's GDP rose +0.2% in June.  Goods producing industries declined -0.2% while the services sectors rose +0.3%.
The Bank of Canada next meets on September 4 when they are expected to leave the benchmark interest rate unchanged at 1.75%.
*Sources: MSCI, FTSE, Morningstar Direct, Trading Economics