April was a difficult month for equity markets around the world, while bonds continued to suffer.
April 2022 Market Performance
All index returns are total return (includes reinvestment of dividends) and are in Canadian Dollars unless noted.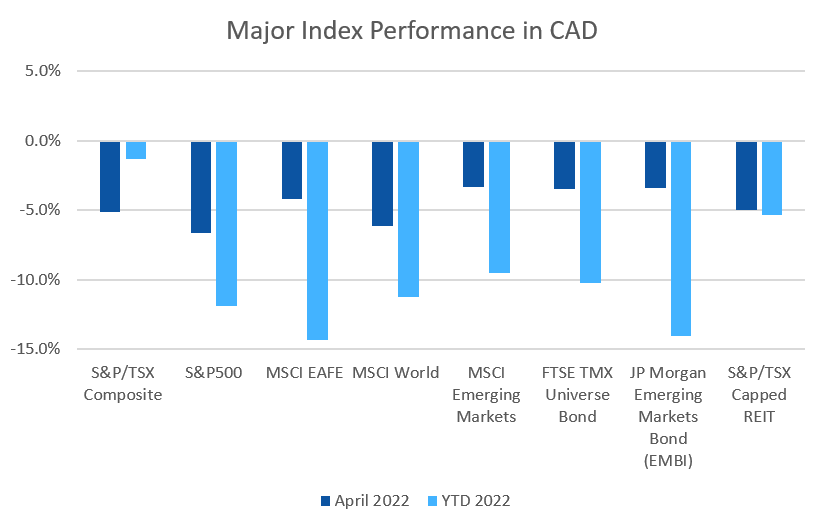 *Absolute change in yield, not the return from holding the security.
April was a difficult month for equity markets around the world, while bonds continued to suffer.
The S&P/TSX Composite was down -5.0% in April, turning negative for the year at -1.3%.  The S&P/TSX Small Cap performed a little better, losing -1.5% for the month.  US markets performed much worse; the large cap S&P500 lost -9.7% (in USD), and its now down -12.9% for 2022. The index of US small cap stocks, the Russell 2000, lost -10.0% (-17.0% for 2022),  and the tech focused Nasdaq lost -13.3% (-21.2% for 2022).
The broad index of EAFE (Europe, Australasia & Far East) stocks was one of the better performers in April, losing -1.7% (-6.1% for 2022).  Out of the EAFE regions, European stocks performed similarly, losing -1.2% in April, meanwhile British stocks were up +0.4% (+2.2% for 2022!).  Japanese stocks were down -3.5%, bringing their YTD to -6.8%.  Emerging market stocks were down -3.7% for April and -9.9% for 2022.
Bond markets continue to struggle with the prospect of higher interest rates; all indexes we track posted their fourth negative month in a row, with many having their worst start to the year in decades.
The major Canadian bond index, the FTSE/TMX Universe Bond Index lost -3.5% in April, bringing the YTD loss to -10.2% – its worst drawdown since 1994!  The FTSE/TMX Short-term Bond Index lost -0.9% in April, and is down -3.9% for 2022.  In the US, investors sold the higher grade bonds heavily again, while high yield was again spared the worst of the losses.  The ICE BoA AAA index lost -6.4% for April, bringing the YTD loss to -14.4%. The BBB index performed a little better at -5.1% for April, and -12.9% YTD.  High yield bonds lost -3.6% in April for the HY Master II Index and -4.1% for the CCC and lower (the real junky stuff) Index.  Emerging market bonds were down -3.4% for April and -14.1% for 2022 – their worst quarter in history (well, since the index was created at least).
REITs were down -5.0% in April, and are down -5.4% for 2022.
Oil remains above the US $100 per barrel level, gaining +4.4% in April, and it is up +39.2% for 2022.   Gold lost -1.9 in April. The diversified Bloomberg Commodities Index gained +4.1% in April, and its up +30.6% for 2022.
In April the Canadian Dollar (CAD) lost -2.4% against the US Dollar, and gained +2.6% against the Euro.
April 2022 Economic Indicator Recap
Below are the readings received in April for the major economic indicators: central bank interest rates, inflation, GDP and unemployment.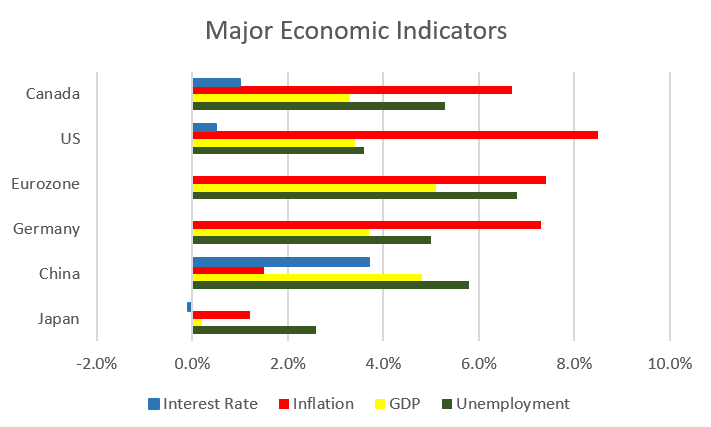 Below are the current readings on a few other often followed economic indicators: retail sales and housing market metrics.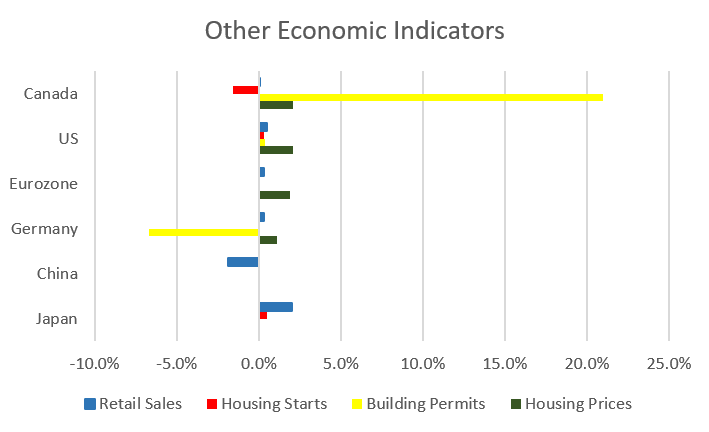 A Closer Look at the Canadian Economy

Canada's unemployment rate dropped to 5.3% in March, the lowest rate on record.  Employment increased in both the goods and services sectors, with gains concentrated in Ontario and Quebec. The economy added 72,500 jobs, 92,700 were full time jobs, while 20,200 part time jobs were lost.  The job gains were concentrated in the services sector, particularly accommodation and food services.
Housing prices across Canada were up +2.1% in March, with 10 of 11 major markets posting gains.  The top gainers were Halifax (+5.4%), Hamilton (+3.3%), and Toronto (+2.7%).  Quebec City was sole loser at -0.7%. The annual national price gain for the 12 months ended March 31 was +18.4%; Halifax was almost double that at +34.7%.
The level of new housing starts declined -1.6% to 246,200 units in March.  Urban housing starts declined -2%, driven by urban multifamily (condo and townhouse) construction.  The value of building permits issued rose +21.0% in February to $12.4 billion, led by a +130.2% gain in BC. Residential construction rose +9.8%; non-residential construction rose +43.2% which was driven by large hospital permits in BC and Quebec.
The inflation rate for March was +1.4%, and +6.7% on an annual basis – the highest annual inflation rate since January 1991!  Prices rose in all eight parts of the index: transportation +11.2%, gasoline +39.8%, shelter +6.8%, food+7.7%.  Core inflation which excludes more variable items such as gasoline, natural gas, fruit & vegetables and mortgage interest was +5.5%.
Retail sales were up +0.1% in February, with 6 of 11 sectors posting increases.  Clothing stores saw gains of +15%, and gasoline stations +6.2%. Car dealers were one of the few losers, with sales declining -5.1%. New car dealers, grocery stores and general merchandise stores were the largest gainers.  Compared to a year ago, retail sales were up +7.4%.
Canada's GDP grew +1.1% in February.  The goods producing sectors grew +1.5%, led by mining and oil & gas at +3.4%. The services sectors grew +0.9%, with accommodation and food services the biggest gainer at +15.1%.
As expected, after months of inflation higher than we've seen in more than a decade, the Bank of Canada raised interest rates +0.50% to +1.00% at the April 13th meeting.  The BoC hasn't raised rates by 0.50% in more than 20 years. The benchmark interest rate is expected to remain at its current low levels until into second half of 2022. The BoC expects inflation to remain elevated for the first half of 2022, after which they expect inflation to ease, although the invasion of Ukraine and the rapid rise in energy prices creates additional uncertainty for interest rate forecasters.
The Bank of Canada also announced plans to begin quantitative tightening (the reverse of quantitative easing seen at the start of the pandemic and in the financial crisis) beginning on April 25.  Maturing bonds will no longer be replaced with new purchases, which will shrink the size of the Bank's balance sheet.  This will in effect remove a large bond buyer from the market and increase the yields seen on longer term bonds.
*Sources: MSCI, FTSE, Morningstar Direct, Trading Economics