September is the worst month on average for stocks, but this September was a good one with equity markets performing well.  Bonds were down slightly and REITs again performed well.
September 2019 Market Performance
All index returns are total return (includes reinvestment of dividends) and are in Canadian Dollars unless noted.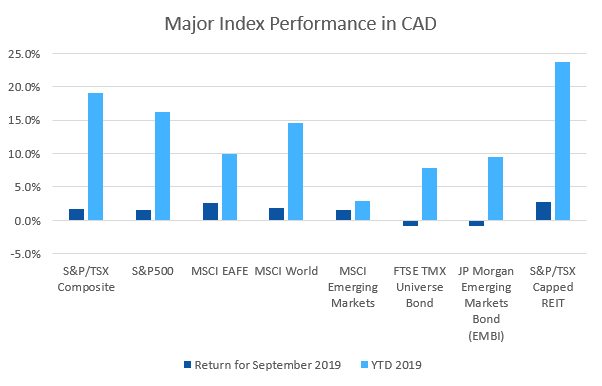 *Absolute change in yield, not the return from holding the security.
September was a good month for equity markets.  The S&P/TSX Composite was up +1.7% for the month, bringing the year to date return to +19.1%.  In the US, the large cap S&P500 and small cap Russell 2000 were both up +1.9% (+20.6% and +13.0% YTD, respectively).
EAFE (Europe, Australasia & Far East) stocks performed even better at +3.2%; European stocks specifically were up +3.0%.  With no end to Brexit on the horizon, British stocks continued to surprise by gaining +1.7% and are now up more than 10% for 2019. Emerging market stocks were up +1.3%, and are up a somewhat disappointing +5.5% for 2019.
Canadian bonds were one of the few negative spots in September, the FTSE/TMX Universe Bond Index lost -0.8% and the FTSE/TMX Short-term Bond Index lost -0.4%.  US bonds were mixed in September, with treasuries and high grade corporates down while lower rated and high yield indexes were positive.  Emerging market bonds were down -0.8%, they're up +9.5% for 2019.  REITs continued to perform well, returning +2.7% for September and +23.8% for 2019.
The headline commodities, oil and gold were both down in September.  Oil was down -1.9% and gold was down -3.7%.  Meanwhile, the diversified Bloomberg Commodities Index was up +1.0% for September bringing the 2019 return to an uninspiring +1.4%.
The Canadian Dollar (CAD) gained +0.4% against the US Dollar and +1.3% versus the Euro.
Commentary – by Gordon Ross, CFA
September is historically the worst month of the year for U.S. stocks. Going into September this year there were many crises that seemed to predict a terrible month: trade wars, impeachment announcements, attacks on oil fields, negative interest rates, etc.
At the end of the month, U.S. stocks had given a positive return for the period. This kind of surprise is completely normal in markets of tradeable securities. What can a person do?
The Ontario Securities Commission (OSC) says  in their newsletter "Investor News" that this is, "the perfect time to learn about making smart investing decisions". Here's what they say about the markets. Check the registration and qualifications of your advisor. Have an action plan based on your goals and resources. Assess the impact of fees. Understand risk. Recognize the power of compounding. Understand diversification. Don't give in to sales pressure.
Notice there is no mention of what the markets do? For most people, under reasonable assumptions, about half of the nest egg you end up with will be what you saved, and the other half will be what market returns gave you.  Also important is that you can forecast and manage the savings side. Markets will do what they do, repeatedly surprising everyone.
ModernAdvisor takes care of all those points expressed by the OSC, to help you set reasonable goals and reach them in any market environment.
September 2019 Economic Indicator Recap
Below are the current readings on the major economic indicators: central bank interest rates, inflation, GDP and unemployment.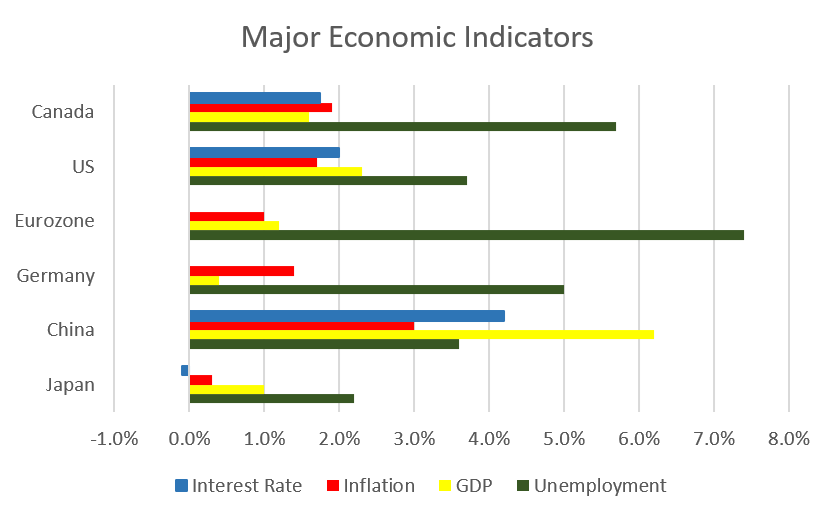 Below are the current readings on a few other often followed economic indicators: retail sales and housing market metrics.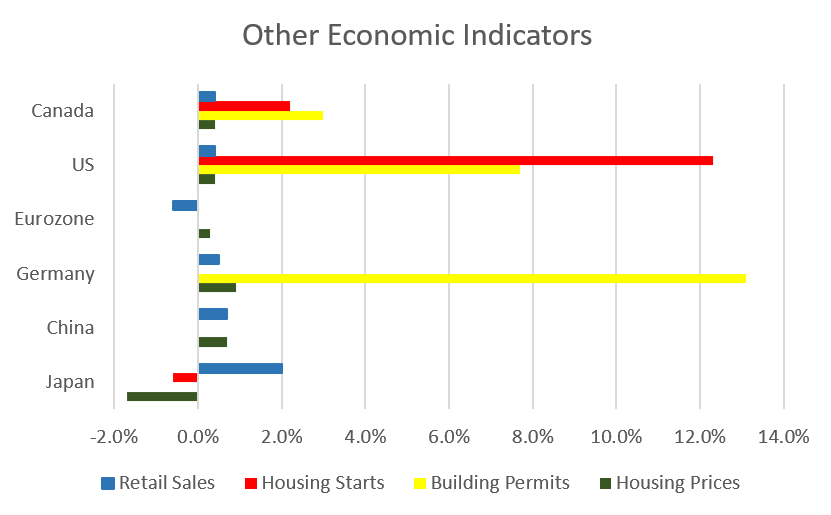 A Closer Look at the Canadian Economy

Canada's unemployment rate was unchanged at 5.7% in August, as 81,100 jobs were added.  23,800 of those jobs were full time and 57,300 were part time.
Housing prices across Canada were up +0.7% in July, meanwhile Vancouver was down -0.8% its 13th consecutive flat or negative month.  Seven of the other 10 metropolitan markets in the index were up, with Halifax (+1.8%), Ottawa (+1.7%), and Montreal (+1.1%) the largest gainers.
The level of new housing starts rose +2.2% in August to 226,800 units.  The value of building permits issued in July rose +3.0% to $8.4 billion.
The inflation rate for August was -0.1%, and +1.9% on an annual basis.  Core inflation which excludes more variable items such as gasoline, natural gas, fruit & vegetables and mortgage interest was also +1.9%.
Retail sales were up +0.4% in July, the first increase in 3 months; compared to a year ago retail sales were up +1.2%.  Stronger sales were seen at new car dealers, health and personal care stores and supermarkets.  Sales at cannabis stores were up +14.3%, exceeding $100 million for the first time since legalization.
Canada's GDP was flat in July.  Goods producing industries declined -0.7%, led by a -3.5% decline in mining, quarrying and oil & gas extraction; their largest decline since May 2016.  The services sector rose +0.3%, the fifth consecutive monthly gain.
The Bank of Canada left its benchmark interest rate unchanged at their September 4 meeting.  With inflation remaining tame, no changes are anticipated (if at all) until well into 2020.
*Sources: MSCI, FTSE, Morningstar Direct, Trading Economics