March was another strong month for equity markets, while fixed income continued to struggle.
March 2021 Market Performance
All index returns are total return (includes reinvestment of dividends) and are in Canadian Dollars unless noted.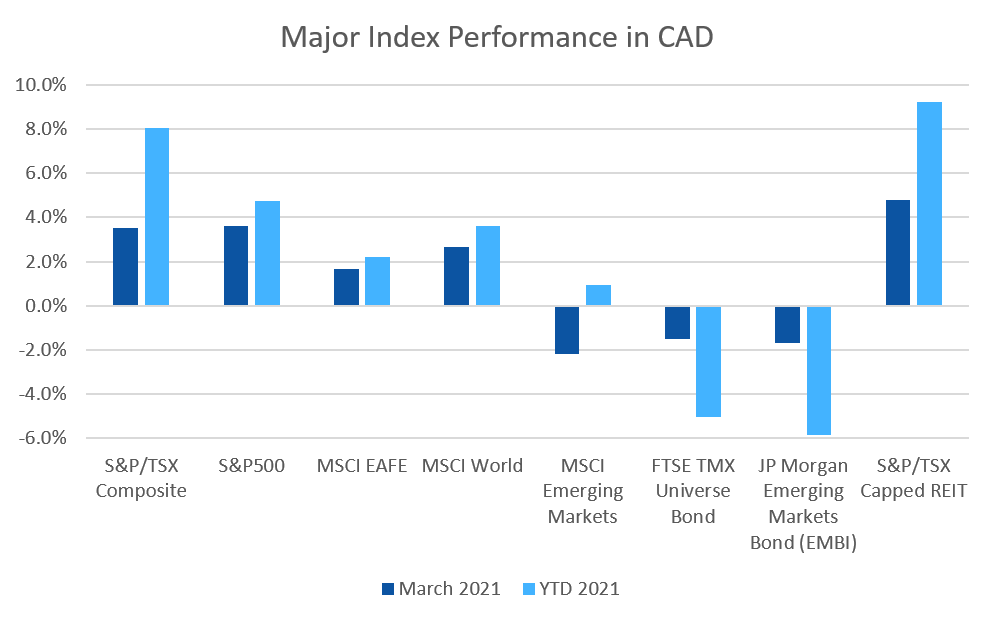 *Absolute change in yield, not the return from holding the security.
March was another strong month for equity markets, while fixed income continued to struggle.
The S&P/TSX Composite was up +3.9% in March, hitting new all time highs.  The S&P/TSX Small Cap was down -0.5% for the month, and is up +9.2% for 2021.  In the US, equity market performance was also strong.  The large cap S&P500 was up +4.4% (+6.2% for 2021) while the small cap Russell 2000 index was up +0.9% for March and +12.4% for 2021.
The broad index of EAFE (Europe, Australasia & Far East) stocks was up +4.8% (+6.9% for 2021), European stocks were up +5.7%, and British stocks were up +3.6% for March.  Japanese stocks were more muted at +0.7% for March.  Emerging market stocks were one of the few negative spots in the equity markets in March, losing -1.1%.
Bonds continued their slump in March.  The major Canadian bond index, the FTSE/TMX Universe Bond Index, was down -1.5%, and is down -5% for the first quarter of 2021, its worst quarter since 1994.  The FTSE/TMX Short-term Bond Index was up +0.1% in March.  US investment grade bonds fared similarly poorly; the ICE BoA AAA and BBB indexes were down -2.0% and -1.2% respectively for March.  The AAA index is down -7.4% so far in 2021, its worst quarter in over 27 years!  High yield was slightly positive at +0.2% for HY Master II and +1.2% for the CCC and lower (the real junky stuff).  Emerging market bonds were down -1.7%, and -5.8% for the quarter; their worst quarter since the Asian financial crisis in 2007.
REITs had another good month, gaining +4.8% in March and +9.2% for the first quarter of 2021.
Oil gave back -3.8% in March, finishing the month at US$59/barrel.  Gold was down -0.9%, and is now down -9.6% for 2021. With oil making up a large part of the diversified Bloomberg Commodities Index, it returned -2.2% for March but is up +6.9% in 2021.
In March, the Canadian Dollar (CAD) gained +0.9% against the US Dollar, and +3.8% against the Euro.
March 2021 Economic Indicator Recap
Below are the readings received in March for the major economic indicators: central bank interest rates, inflation, GDP and unemployment.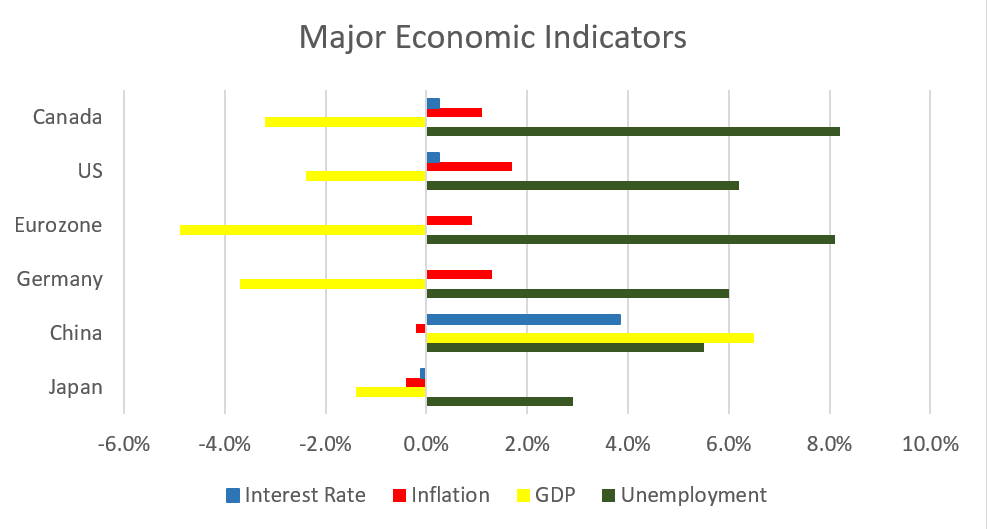 Below are the current readings on a few other often followed economic indicators: retail sales and housing market metrics.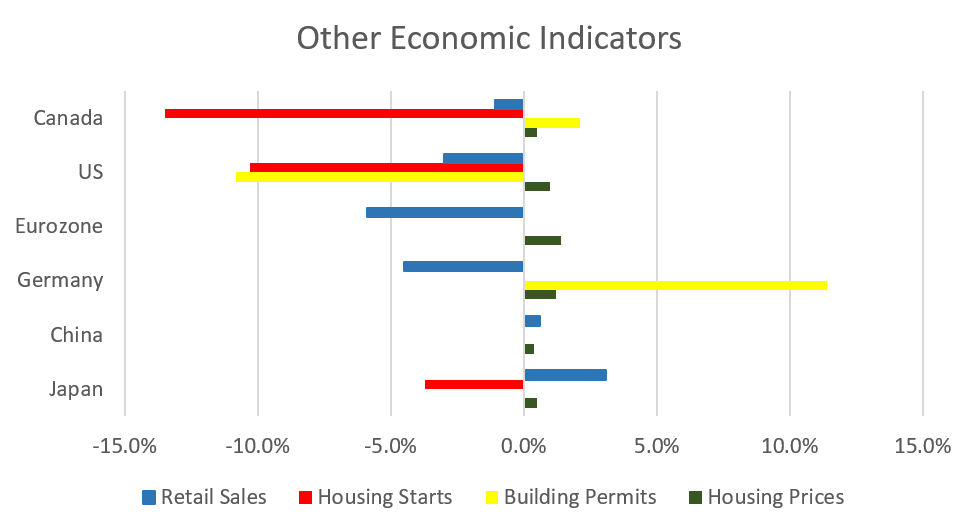 A Closer Look at the Canadian Economy

Canada's unemployment rate dropped to 8.2% in February.  The economy gained 259,200 jobs during the month, 88,200 were full time jobs and 171,000 were part time jobs. Employment rose as public health restrictions were eased in many provinces.
Housing prices across Canada were up +0.5% in February. Halifax was the top performer at +2.3%, followed by Hamilton (+1.1%), Vancouver (+0.8%) and Quebec City (+0.7%). Ottawa and Edmonton were the only major markets down for the month.
The level of new housing starts dropped -13.5% in February, following January's +23.1% gain.  Urban housing starts declined -14%.  Building permits rose +2.1% to a new all-time high $10.2 billion, as non-residential construction permits rose +14.2% to $3.3 billion, while residential construction slipped -2.9% to $6.8 billion.
The inflation rate for February was +0.5%, and +1.1% on an annual basis.  Core inflation which excludes more variable items such as gasoline, natural gas, fruit & vegetables and mortgage interest was +1.2%.  The rise in inflation was attributed mostly to higher gasoline prices (+5%) and food (+1.8%).
Retail sales were down -1.1% in January.  The decline was attributed to increased COVID-19 cases which caused provincial governments to increase social distancing measures; approximately 14% of retailers were closed at some point in January for 3 business days on average. Compared to a year ago, retail sales were up +1.3%.
Canada's GDP was up +0.7% in January, the ninth consecutive monthly gain since the biggest contraction on record in March and April of 2020.  Collectively, the goods producing sectors rose +1.5% while the services sectors rose +0.4%.  Gains weren't widespread as only 10 of 20 industrial sectors posted gains in January.
As expected, the Bank of Canada left its benchmark interest rate at 0.25% at the March 10 meeting.  The benchmark interest rate is expected to remain at its current low level until into 2023. The BoC has maintained its quantitative easing program of purchasing at least $4 billion of government and corporate bonds per week. Policymakers said that despite the stronger short term outlook, there is still considerable economic slack and a great deal of uncertainty about the ongoing COVID-19 pandemic and the path of economic growth.
*Sources: MSCI, FTSE, Morningstar Direct, Trading Economics